Missions
We are excited to announce our partnership with Living Water. For the next several years AWC will be going to Haiti to provide water to the people in this country still living without clean water and to tell those who have never heard about the good news of Jesus Christ.
Living Water in Haiti
Living Water International began work in Haiti in 2004 through partnerships with missionaries and other organizations. After the catastrophic earthquake in January 2010, LW established bases of operations near Port-au-Prince and Cap Haitian area with a renewed focus on long-term community development.
In 2016, Living Water Haiti continue its efforts in Cabaret, West Haiti (the country's first WASH Program Area, or WPA) and Dondon, North Haiti, by providing water access points, training Community Health Club members, and developing relationships with local authorities, church organizations, and community-based organizations.
how you can get involved
There are two ways you can get involved with our Haiti mission.
1. Well Funding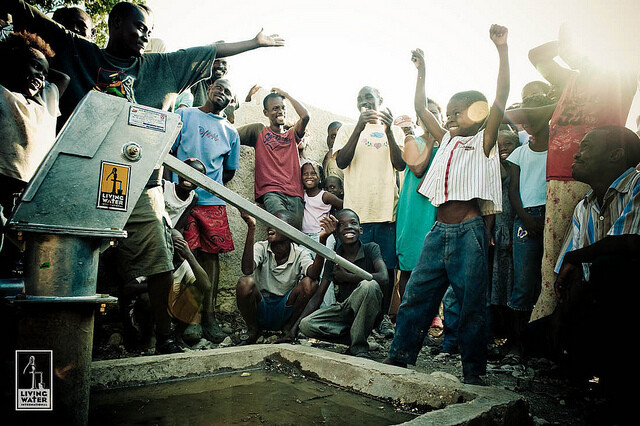 A major component of our mission effort is providing water to those in need in Haiti. With every well funded, we will send a team from Anchor Way to establish the well and to teach the community about water stewardship.
A typical well cost 10,000 dollars. If you'd like to help fund our current well project you can write a check, for any amount, directly to Anchor Way Church or you can use our Pay Pal services.
Please write in the memo that you would like to designate your funds to Haiti Well.
2. Well Digging
As mentioned above, Anchor Way plans to send a team to Haiti every year for the next several years. If you would like to join us on our next trip to Haiti, please refer to our Mission Trip Event page.
The video below shows the effects of Living Water's efforts in Haiti.